Fairmont Kea Lani Maui Hotel - Wailea (Maui)
20.675941

,

-156.441181
Wailea (Maui)

,

United States

|
874US$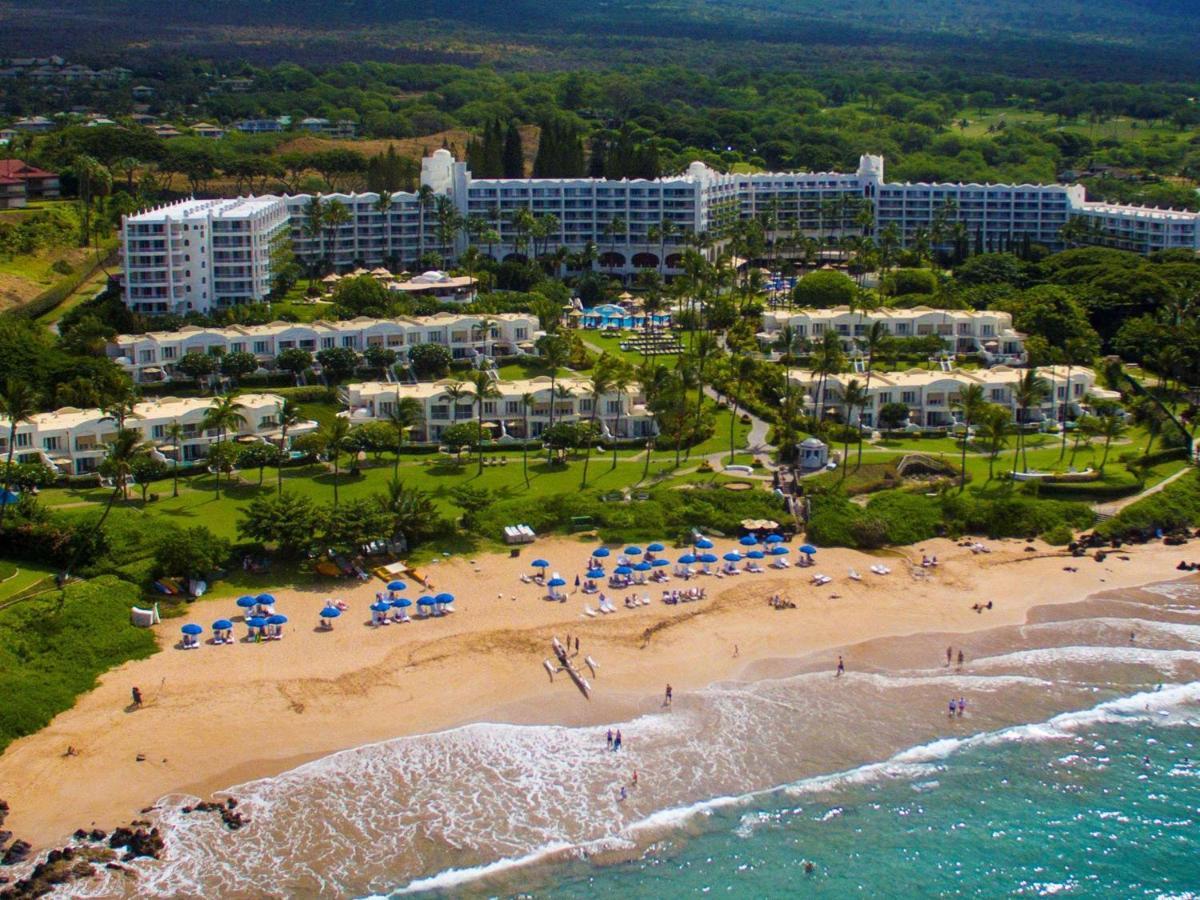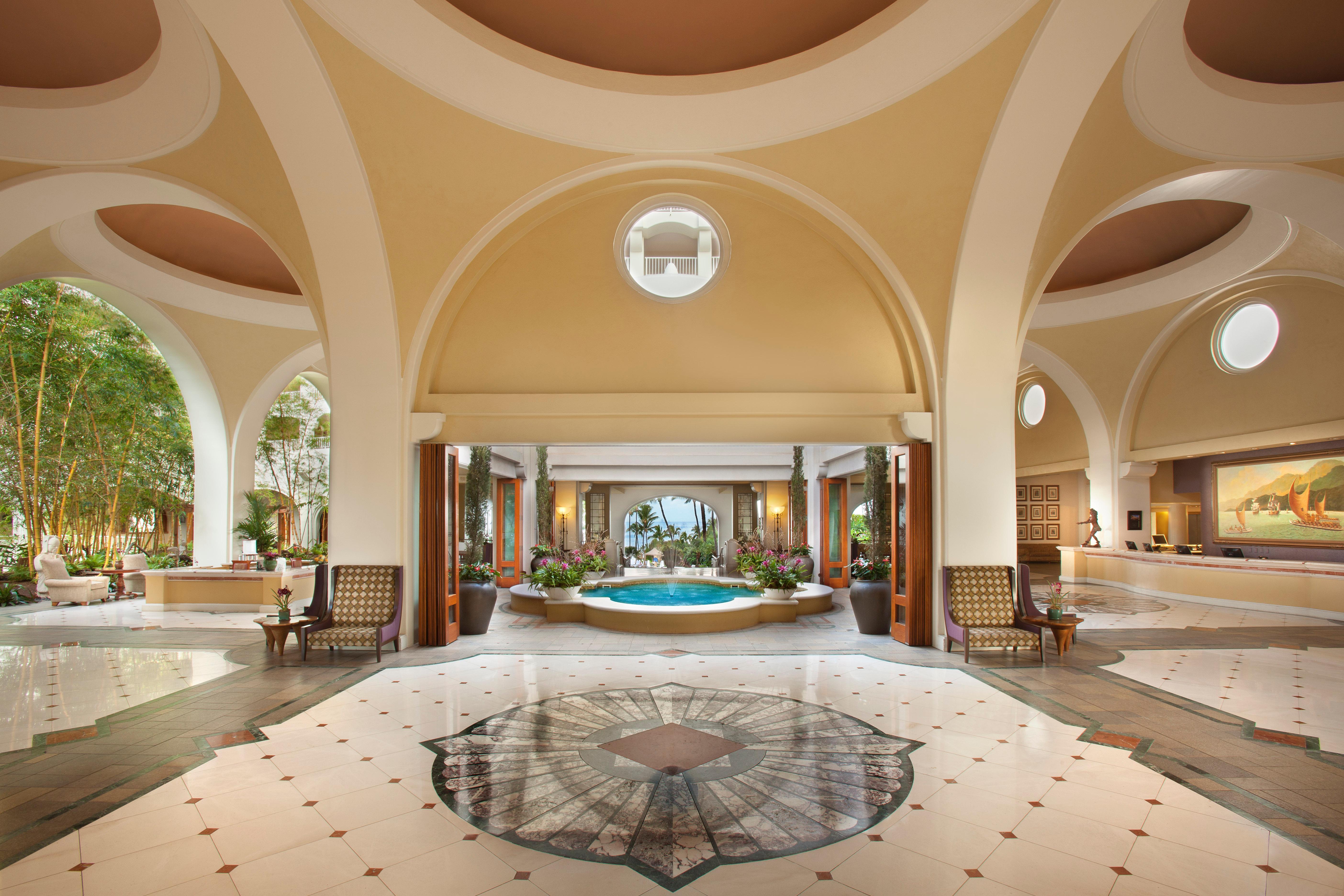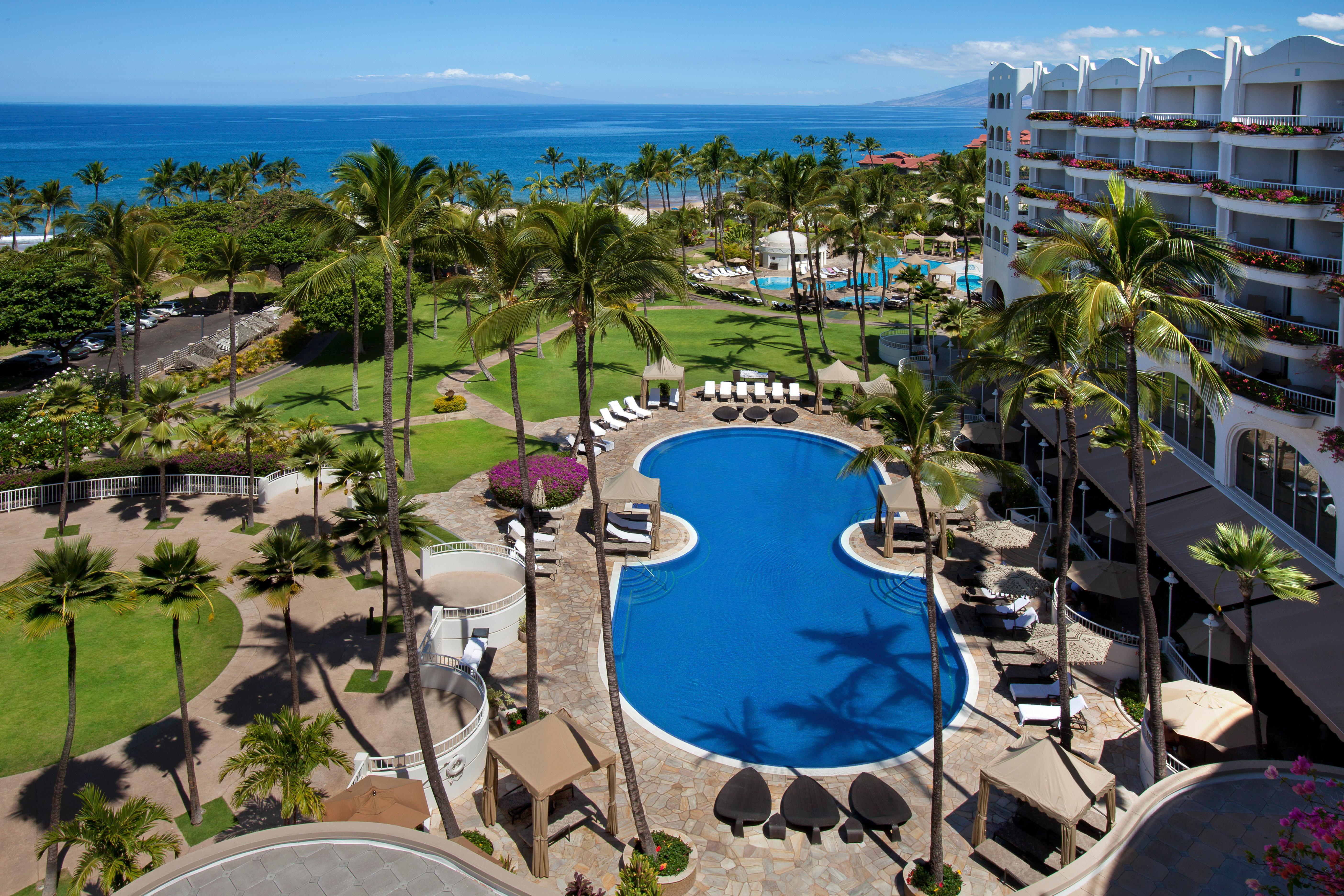 Address
4100 Wailea Alanui Drive
,
Wailea (Maui)
,
Hawaii
,
United States
,
96753
, Hawaii
Overview
Enclosed by a main restaurant, cafés and golf courses, 0.9 miles from Makena State Park, the 5-star Fairmont Kea Lani Maui Wailea includes 450 rooms. This resort is placed 5 minutes' drive from The Shops at Wailea Outdoor Mall, and provides guests with steam baths, a hot tub and an outdoor swimming pool.
Location
Fairmont Kea Lani is located within 100 feet of the Wailea hotel, and such natural sites as Mokapu Beach is 10 minutes' drive away. The Sandy Wailea Public Beach is within a close distance from The Fairmont Kea Lani Maui and Kahului airport is 22 miles away. Guests will also find a market and a mall right by the accommodation. It is set near Wailea Blue Course, overlooking the Pacific Ocean.
This hotel also lies right by highway.
Rooms
Welcoming guests to a balcony and a dining area, the rooms are furnished with a couch and a work desk. The rooms are fitted with a private bathroom with a walk-in shower, while some feature views of the ocean. In addition, an 80 m² suite comprises a separate living area and accommodates up to 4.
Eat & Drink
Guests can enjoy their morning meal in the restaurant. Guests can enjoy Delhi cuisine at Makana Market + Cafe, situated in close proximity to this Wailea property.
A full breakfast is served at the price of US$49 per person per day. 
Services
The hotel has valet parking and babysitting available at an extra cost.
Leisure & Business
Guests can enjoy water slides and an outdoor pool with an extra charge. Focused on the needs of travelers, Fairmont Kea Lani Maui Wailea offers a gym and aerobics classes. There is a fitness center at The Fairmont Kea Lani Maui. A comfortable stay at this Wailea hotel awaits you with a wellness area and full spa featuring body wraps, body scrub and pedicure. Finally, the property houses a 24/7 business center featuring a photocopy machine and a desk.
Internet
Wireless internet is available in the entire hotel for free.
Guest Parking
Public parking is possible on site at USD 45.77 per day.
The personnel at the hotel speaks English, German, Spanish, Italian, Portuguese, Japanese, Russian, Arabic, Thai, Tagalog / Filipino, Vietnamese.
Year renovated:   2010.  Number of floors:   7.  Number of rooms:   450.
Former name: Fairmont Kea Lani Maui
Best-Rated Fairmont Hotels & Resorts Hotels around Wailea (Maui)
With its rich history and timeless elegance, Fairmont Hotels & Resorts is a brand that values personalized experiences and exceptional service. Guests can expect stunning locations, luxurious accommodations, and world-class dining options. Whether you're seeking a relaxing getaway or an exciting adventure, Fairmont Hotels & Resorts offers a unique blend of authenticity and sophistication. Discover the true meaning of hospitality with Fairmont Hotels & Resorts.
81 reviews

533$ / night

70 reviews

206$ / night

601 reviews

213$ / night

348 reviews

276$ / night

212 reviews

245$ / night

985 reviews

185$ / night

338 reviews

842$ / night

665 reviews

260$ / night
Most Booked Hotels for Your Next Trip
Facilities
Most popular facilities
24-hour services
24-hour reception
24-hour security
Babysitting
Babysitting/Child services
Swimming pool
Outdoor swimming pool
Heated swimming pool
Facilities for kids
Game room
Children's play area
Children's pool
Children's buffet
Board games
Private beach
Beach access
Sun loungers
Beach umbrellas
General
Wi-Fi
Parking
24-hour services
Babysitting
Swimming pool
Air conditioning
Facilities for kids
Private beach
Sports & Fitness
Fitness center
Diving
Snorkeling
Canoeing
Hiking
Golf course
Yoga class
Fitness studio
Sports trainer
Services
Room service
Housekeeping
Car rental
Laundry
Dry cleaning
Tours/Ticket assistance
Stores/Commercial services
Bell staff/Porter
Welcome drink
Happy hour
Dining
In-room breakfast
Restaurant
Poolside snack bar
Outdoor dining area
Packed lunches
Business
Business center
Meeting/ Banquet facilities
Fax/Photocopying
Children
Babysitting/Child services
Children's buffet
Board games
Children's pool
Water slides
Children's play area
Game room
Spa & Leisure
Heated swimming pool
Outdoor swimming pool
Beach access
Beach umbrellas
Sun loungers
Live entertainment
Garden area
Spa & wellness center
Sauna
Steam room
Jacuzzi
Pedicure
Manicure
Body scrub
Treatment room
Body wraps
Back massage
Head massage
Full body massage
Foot massage
Shallow end
Make up services
Room view
Sea view
Garden view
Mountain view
Pool view
Room features
In-room air conditioning
In-room safe
Sitting area
Terrace
Garden furniture
Tea and coffee facilities
Ironing facilities
Media
Flat-screen TV
Telephone
AM/FM alarm clock
Good to know
Check-in
from 16:00-23:59
FREE
Check-out
until 12 pm
FREE
Children & extra beds
Maximum capacity of extra beds in a room is 1. 
Pets
Pets are not allowed.
License number
TA-150-157-7216-01
Rooms and availability
Suite Two Double Beds Sofa Bed Ocean View

Bed options:

Room size:

865 sq. feet
Sea view

Shower

Coffee machine

Bathtub

Balcony
Deluxe Suite Two Double Beds Sofa Bed Ocean View

Bed options:

Room size:

865 sq. feet
Sea view

Shower

Coffee machine

Bathtub

Balcony
Family King Suite Sofa Bed Ground Floor or Poolside

Bed options:

Room size:

865 sq. feet
Pool view

Shower

Coffee machine

Bathtub

Balcony
Location
4100 Wailea Alanui Drive
,
Wailea (Maui)
,
Hawaii
,
United States
,
96753
, Hawaii
City landmarks
Nearby
Restaurants
Hotels nearby
Shopping Area
The Shops at Wailea
1.0 mi
Wailea Emerald Course
3300 ft
Kihei
Po'olenalena Beach Park
4600 ft
Park
Makena Landing Park
1.5 mi
Makena State Park
4800 ft
Golf Course
Wailea Gold Course
5000 ft
Golf Course
Wailea Old Blue Course
2100 ft
131 Wailea Ike Pl
Wailea Tennis Club
1.2 mi
Spa Centre
Spa at the Four Seasons Maui at Wailea
2300 ft
Gallery
Grand Wailea-Ki'i Gallery
2700 ft
Park
Makena Landing Beach Park
1.3 mi
3850 Wailea Alanui Dr
Aqualani Beach & Ocean Recreation
3000 ft
3750 Wailea Alanui Dr
Martin & MacArthur
4000 ft
3750 Wailea Alanui Dr # A17
Spa Centre
Olavine Spa & Salon
1.1 mi
Beach
Po'olenalena Beach
4600 ft
Golf Course
Wailea Blue Course
1600 ft
100 Kaukahi St
Mulligan's on the Blue
1800 ft
Restaurant
Makana Market + Cafe
100 ft
Restaurant
Kea Lani Restaurant
100 ft
Restaurant
Mulligans on the Blue
1800 ft
Restaurant
Duo Steak & Seafood
3600 ft
Restaurant
Lobby Lounge at Four Seasons Resort Maui
3600 ft
Restaurant
Ferraro's Bar e Ristorante
3500 ft
You can book a shuttle, once your reservation is complete.
Reviews of Fairmont Kea Lani Maui
Ben

The breakfast was free and tasted quite good. The hotel was close to many of the city's main sites, making it easy to get around by foot. The toiletries were of good quality and left me feeling refreshed.

The room was lacking in proper maintenance, with broken windows and loose toilet seats. The pool and beach areas were much too overcrowded, leaving no space to relax. for the price, I was expecting a much better experience.

Rodney

Our luxurious suite was brilliantly appointed and spacious. The exclusive amenities were world-class, especially the spa and wellness centre, outdoor swimming pool, and Jacuzzi. The service was exceptional and the staff was helpful, making our stay way more memorable. The private facilities and beach access were on another level.

The one minor issue was that the restaurant's food prices were a bit expensive compared to outside eateries. we had a fantastic stay at this exceptional venue. From the full body massage to the beach umbrellas, everything added to the luxurious experience. We would highly recommend this hotel to anyone seeking world-class luxury.

Terry

We spent our New Year at this breathtaking Hawaiian resort and it was absolutely amazing! The two things we loved the most were the stunning sunset ceremony with torches being lit throughout the grounds, and the impeccable service from the staff who went above and beyond for us. The location of the resort was also ideal, with easy access to multiple pools, a beach, bars, and a spa. We particularly enjoyed how clean and well-serviced all the amenities were.

Despite the fantastic features, we did run into a few issues during our stay. The check-in process was slower than expected, and we had to wait for our room to be ready. Additionally, we were surprised by the resort fee at check-out, which we wish we had been informed of during check-in. However, overall, our experience was absolutely amazing and we couldn't have asked for a better New Year's celebration.

Dorothy

Our stay at this hotel was nothing short of luxurious. The exclusive amenities provided were exceptional. We enjoyed the outdoor swimming pool, the sauna, and the Jacuzzi. The beach access is another great advantage. The service provided was top-notch and the spa experience, including a full body massage, was rejuvenating. We especially appreciated the restaurant's poolside snack bar and outdoor dining area.

The only minor issue we experienced was with the entertainment offered. We were hoping for some live entertainment, but unfortunately, it was not available. our stay at this hotel was an unforgettable experience, and we highly recommend it for those in search of an indulgent getaway.

Edward

The staff was friendly and helpful, and we appreciated the free amenities such as boogie boards and sunscreen. The pool was open 24 hours, and we loved the beach location. The suite was spacious and had a great balcony for enjoying coffee or watching the sunset.

The hotel is showing its age with cracked tiles and uncomfortable beds. Restaurants on-site were pricey with limited options, and there was no in-between area for small children at the pool. We ended up driving to nearby Kihei for better dining options.

George

This hotel is luxurious and fulfilled all our exclusive amenities needs. The service was impeccable and the Spa & Wellness Centre was fantastic. We enjoyed the sauna, outdoor swimming pool and Jacuzzi, with beach access and entertainment events. The massage was incredible and the beauty treatments were top-notch. The hotel's restaurant was exquisite, with a range of delicious dishes.

The only minor issue we experienced was that the poolside snack bar could offer more reasonably priced options. While the hotel was lovely, we felt it lacked some of the local feel of Maui and could have more entertainment options. this hotel provided an amazing luxurious experience, with exceptional amenities and outstanding service.

Michelle

With the help of the excellent staff, we had a relaxing stay. The idea to include a microwave oven, an electric kettle and a fridge in the suite was nice. Do n't forget to explore Wailea district. Very good food choices for breakfast.

Jane

Spend our time here greatly. Just a 15-minute stroll to the center. We enjoyed the room with a flat-screen TV with cable channels, a dining area and ironing facilities. Thanks to doorman. Our favorite hotel in Wailea, staff was helpful.

Rose

Great nearby places include Ama Bar & Grill, we usually had drinks there. The room is reasonably priced. We used the shuttle offered by the venue.

missing

Great staff, large luxurious rooms, and beautiful relaxing grounds- very family and kid friendly, unlike the stuffy Four Seasons. Also just the right amount of staff to guest ratio, not too many people on the property. It was our fourth stay there and look forward to coming back again! See ya soon Kea Lani!

Book your luau early! Do not wait till you arrive! And Do Not do a deep sea fishing trip! Rent your own boat instead. We went twice and did not catch fish! This was nOt booked through the Fairmont though.

missing

The set up, the rooms are very comfy, very quiet at night, food is delicious, very close to the Four Seasons so yoy can walk there for a dinner experience at night.

missing

The beach, pool , atmosphere and staff

I will tell you what I didn't like during my stay is my dinner at the restaurant nick's fisherman. Escargot were almost cold and bitter (as they should be washed when the chef take them out of the can, and must be serve very hot and cooked properly) the main course were too rich and presentation was very poor (quantity not egual quality) . Dessert was ok , wine was excellent and service was very fast.

missing

We had booked a room suite for 4 people and a baby. The bed room was fine but the hide a bed mattress was terrible. We also f Hd no pillows for that bed. Our balconey faced the road so it was noicey. The porter hen he finally came for our lougage told us we had his work cut out for him.

missing

Friendly staff and customer service that represented they sincerely cared about guests.

Slow check-in.

missing

Staff is always friendly and bumped us up two room grades.
FAQ about Fairmont Kea Lani Maui
How far is the city center from Fairmont Kea Lani Maui?
Fairmont Kea Lani Maui is located in Wailea district in the heart of Wailea.
What landmarks can I find in vicinity of the Fairmont Kea Lani Maui?
Makena State Park, set within 0.9 miles from the Fairmont Kea Lani Maui as well as The Shops at Wailea Outdoor Mall placed just a 5-minute drive away are well worth visiting. If you are willing to explore even more landmarks in Wailea, attend the Sandy Wailea Public Beach located within a 17-minute stroll from the property.
Is there parking at the 5-star Fairmont Kea Lani Maui Wailea?
Yes, the 5-star Fairmont Kea Lani Maui Wailea features parking available on site.
Can I have breakfast at Fairmont Kea Lani Maui?
Yes, guests of Fairmont Kea Lani Maui can enjoy buffet breakfast served daily in the restaurant.
What time is check-in and check-out at the Wailea resort?
Guests of the Wailea resort can check in from 4 PM to 11.59 PM and check out from 12 PM.
Which amenities are included in the rooms of Fairmont Kea Lani Maui Wailea?
All rooms of Fairmont Kea Lani Maui Wailea feature tea/coffee making equipment as well as an individual safe and an electronic key card, some of them boast separate bathrooms along with a walk-in shower.
Is the staff at the hotel multilingual?
Yes, the staff of the hotel speaks Russian, Japanese, Arabic, Portuguese and Thai.
Does Fairmont Kea Lani Maui offer facilities for business travelers?
Fairmont Kea Lani Maui conveniently features a photocopy machine and a work desk as well as a 24-hour business center on-site.
Does Fairmont Kea Lani Maui Wailea offer any rental services?
At Fairmont Kea Lani Maui Wailea guests are offered to rent bikes.
What sport activities at Fairmont Kea Lani Maui can I take part in?
At Fairmont Kea Lani Maui guests can attend a fitness center available on-site or make use of a gym and yoga classes.
What spa facilities does the resort offer?
At the resort guests can enjoy foot massage, hand massage and neck massage as well as visit a wellness center and full-service spa offering body wraps, body scrub and pedicure.
Does Fairmont Kea Lani Maui have a bar to relax at?
Guests of Fairmont Kea Lani Maui can have drinks at the poolside bar Luana.